I just received this email and thought it was so unique, I thought I would share it with you.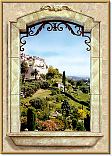 Students will learn how to sketch and paint this beautiful Trompe L'Oeil window using many trade secrets passed down by European painters throughout the ages.

Taught by Yves Lanthier, the price to attend the conference is US$3,495.00 (airplane, hotel and food not included).
What a way to end the year and begin the next, in Paris for 3 1/2 days learning a new skill.
The Art of Trompe L'Oeil Online Seminar Registration Form
Landfair Furniture has no affiliation nor any financial interest in Yves Lanthier or the Trompe L'Oeil seminar.
Bev & Mike

Update 01/27/08 The server for the Trompe L'Oeil window has changed and registration has closed. To view current workshops visit http://www.yvesart.com/